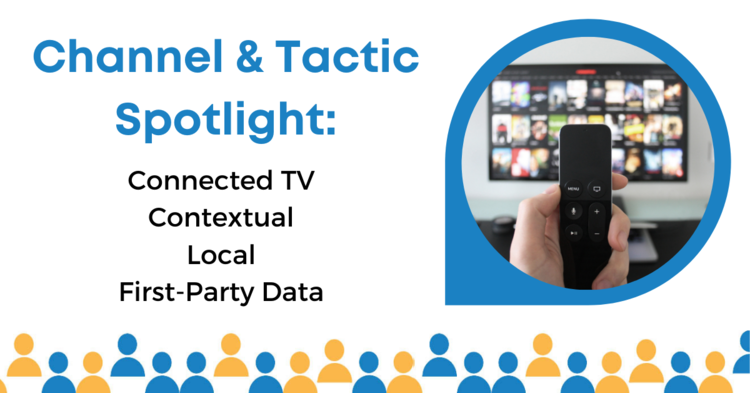 Today we highlight the Connected TV (CTV) channel along with the contextual, hyperlocal and first-party targeting tactics.
Channel
Connected TV (CTV) is video inventory that is streamed from an internet connection.
The connection is made via a streaming device like a Smart TV, gaming system, Roku, Apple TV, Fire Stick, etc.
You will see many people in the industry refer to CTV interchangeably with another acronym, OTT (Over The Top). The term "over the top" comes from the fact that the video content circumvents traditional video delivery bypassing satellite and cable distributors (or goes "over the top" of them, directly to the consumer via an internet connected device).
Currently, more than 80% of American consumers stream at least some of their TV content via CTV.
Tactics
CONTEXTUAL
Contextual targeting allows advertisers to select keywords and topics that are relevant to the product or service they are marketing.
Contextual targeting can be done multiple ways programmatically. The most commonly used methods include:
Hand-picking domains (known as "whitelisting") to serve ads on

Creating private marketplace partnerships with relevant publishers

Using 3rd party data providers that scan context for keywords and relevancy
LOCATION 
Location targeting is exactly what it sounds like: it allows marketers to target people based upon location.
In the age of big data, machine learning, and AI, location targeting has a number of implementations that allow marketers to precisely target audiences based upon where they are and even where they have been.
FIRST PARTY DATA 
This is the data that you collect directly from your customers and audiences that visit your website(s) and app(s).
First Party Data is generally stored in your CRM, DMPs, CDPs, and/or within pixels. It can include everything from name, address, email, phone number to device IDs, survey data, purchase history, and more.
The Intersecting Opportunity
TV advertising is incredibly powerful. There are few opportunities to get 15 or 30 seconds of undivided attention to pitch potential customers on a product or service.
Unfortunately TV advertising has been a dream for most marketers due to the high cost and inefficiency of targeting too wide of an area.
ENTER CONNECTED TV. 
As more consumers stream television over their internet connection marketers can now place TV commercials programmatically. This allows advertisers to target using many of the same tactics you can use for other digital ad buys, including contextual and location targeting.
The implication for local and regional advertisers is enormous. Especially for brick and mortar advertisers. 
There are a number of studies that correlate proximity to consumer purchase behavior. Essentially, patronage decreases the further a customer lives from a place of business.
With CTV, advertisers can drop a pin on their location(s), analyze their first party data to see a heatmap of where their customers live, and target TV ads to streamers accordingly based on their location (i.e. likelihood that they will actually visit their place of business).
Additionally, advertisers can select contextually relevant content to place their ads around. For example, if you own a sporting goods store you can choose to advertise on relevant networks like ESPN and Fox Sports as well as sporting events when they appear on network channels.
When combining context, location, and first party data with a powerful marketing channel like Connected TV you can drastically decrease the cost of TV advertising.
By shrinking the geographic location where your ads are shown to target an area and audience that is highly likely to be interested in your product or service AND likely to visit your place of business you can create an affordable TV advertising campaign with a high return on ad spend for your business.
READY TO LEARN MORE ABOUT CONNECTED TV? CONTACT POPULATION SCIENCE TODAY TO LEARN MORE ABOUT CUSTOMIZED SOLUTIONS FOR YOUR BRAND AND BUSINESS.