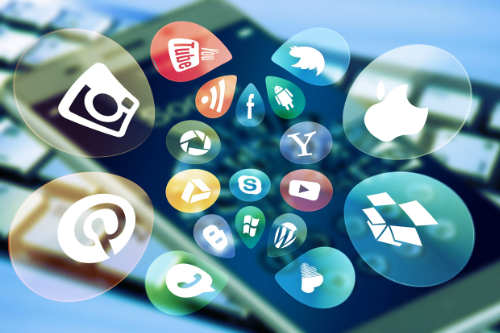 Social media allows organizations to tell their story and connect with their audience. With a strong social media strategy and the ability to create engaging content, you can engage supporters and increase brand awareness, leading to overall success.
Social media is a vital component of overall marketing efforts. But where do you start? Understanding current and relevant social media statistics can help shape your social strategy and define and set goals. Here are 10 social media stats to consider when crafting a strong social media strategy.
1) 57.6% of the world's population uses social media. The average daily usage is 2 hours and 27 minutes (October 2021).
Meet your audience where they are already spending their time- on social media. With the majority of the world spending time online every single day, implementing a social strategy with a strong foundation presents a huge opportunity to reach a variety of supporters.
2) 84 percent of US adults aged from 18 to 29 are active social media users (Pew Research Center, 2021).
This number falls slightly to 81 percent for the 30- to 49-year-old age group and further to 73 percent for those aged from 50 to 64. US adults who are 65 years old and above use social media the least.
Understanding your target demographic and which platforms they use most will allow you to deliver the most effective strategy. The best way to find your target audience is by first thinking about the specific needs your organization fulfills. Start by defining your audiences' questions, concerns, and problems and build your strategy from there.
Facebook continues to be a social media leader. No matter your industry, you should be able to find your desired audience on Facebook. From ad formats, targeting options, and measurement capabilities, Facebook is a great place to start with any marketing strategy.
4) When asked what type of content they like to engage with, 68% of consumers preferred images, 50% preferred videos and 30% enjoyed text-based posts.
Your strategy should include a mix of text, image and video to keep your content interesting and your audience engaged. Experiment with what form of content performs best on your page and use that information to decipher what your audience wants to see.
5) 85% of marketers rate short-form videos as the most effective type of social media content.
Video marketing should be a critical aspect in your social media efforts. Video marketing allows you to share a great deal of information with your audience in a quick and captivating manner.
Your social media should reflect your brands voice. Your social media should cover your organizations basics, be engaging and informational, and inspire your audience to act.
First impressions matter. Your social media will often be the first impression a prospect has of you. When consumers have a positive experience with you it builds trust leading to brand loyalty and affinity and generates sales.
8) In a 2021 HubSpot Blog poll of 1,000+ global marketing professionals, 79% of marketers report buying paid advertising on social media. (HubSpot)
Paid advertising presents an opportunity for reach that isn't always able to be accomplished organically. Social media advertisement allows you to find, target, and reach your desired audience that can fit any budget you have.
9) 83% of marketers believe the quality of social media posts is more important than the quantity. (HubSpot)
Quality and consistency are key to social media success. The more often you can share quality content, the better. Start by researching the specific social platforms you use and determine the amount of content that performs best for each platform.
With most social media users using mobile devices, accessibility is key. It is crucial your social media content and layout are optimized for mobile.
Social media marketing presents a huge opportunity to reach and engage your audience. Use these 10 social media stats to help shape your social media strategy by gaining better insights into the world of social media, and how to maximize your results using these resources.